arrow_backBack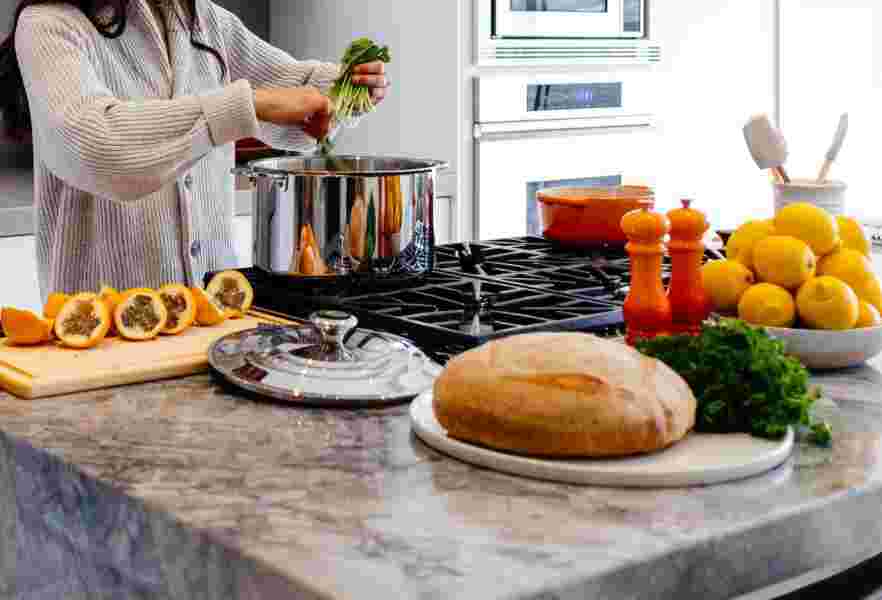 Healthy Eating After 75: Important Things to Remember
General Interest
At Holly Lea Village in Fendalton, we are focused on senior care and support for you in your retirement. This is reflected in our facilities, our grounds, and in the care we take to ensure that all the services we provide are of the highest quality. Whether you reside in our spacious studios or choose an elegant two-bedroom, two-bathroom apartment, you can expect a premium retirement living experience.
Our commitment to care extends to the meals and snacks we provide, and you can be sure a great nutritional balance is also offered in our sunny cafe. When you decide to eat in, we have a few tips to help you move forward into retirement food preparation with the knowledge that will keep you active for as long as possible.
Benefits of the Right Nutrients and Maintaining a Healthy Diet for Seniors
Healthy eating is important at any stage of life, but this is especially true as we reach retirement. When it comes to senior care and support, if you can get the balance right with your nutrition, you can keep doing all the activities you enjoy while also offsetting fatigue and aches and pains—plus you can keep a healthy natural glow.
When you are no longer working, you may find that eating the same foods you did when you were launching yourself out of bed every weekday morning and rushing around, or even just focusing for long periods of time in a more sedentary environment, is actually going to be too much food for you. At Holly Lea Retirement Village in Fendalton, we can help you figure out what level of calories will be optimum for your new relaxed lifestyle.
Portion control is definitely a factor as we age; it pays to tune into your body, and be sure to start with a smaller serving—you can always go back for more. Maintaining a healthy weight is especially important if you are dealing with high blood pressure, diabetes, or heart disease, so taking a little less could translate to fewer trips to the doctor and feeling better every day.
The Unique Nutrition Plan for Seniors
The number one item on your shopping list should always be nutrients! So, what are nutrients? They are the building blocks of healthy foods and help your body stay strong and recover from illness and injury.
Adding lots of nutrients to your diet ensures you maintain strong immunity, so if there are coughs and colds going around, you should increase your intake of nutritious foods.
Be Mindful of Important Nutrients
Foods that are recommended as nutrient-rich are those that have high fibre content and contain lots of vitamins and minerals. Whole grains, legumes, fruit and vegetables, lean meats, and low-fat dairy are good foods to form the foundation of your everyday intake.
As we age, we may also have to check in with the doctor to be sure that the food we are eating mixes with any meds we might be taking. For instance, salt is limited for people who live with elevated blood pressure. There may be small adjustments you can make to your diet that will reap big rewards. Food is a powerful tool if it's applied the right way.
Hydration Is Key
Over half the makeup of your body is water, so at Holly Lea Retirement Village in Fendalton, we think drinking water regularly throughout the day is key. Hydration aids digestion and can help your skin maintain elasticity and a healthy glow.
You should avoid liquids with too much-added salt and sugar—plain or filtered water is a great place to start. Herbal teas are a fantastic way to hydrate, and your body retains water better this way. Be mindful about the amount of caffeine you are ingesting with your water—a little goes a long way—especially after lunch!
Avoid Sugary Drinks
Fizzy drinks, flavoured milk, and even store-bought fruit juices can contain around 8-11 teaspoons of sugar for every 100mls! That means if you drink a litre of Coke, you are taking in 24 teaspoons of sugar! It's not something you would sit down and eat, and it's unhealthy in a myriad of ways—at the very least, think of your teeth.
There are lots of tasty, healthy options in the fridge at the supermarket these days; just check the sugar and sodium levels on the nutrition label before you buy. Our team is happy to point you in the direction of some nutritious cold drinks. You could even start making your own vegetable-based juices now you have the time.
Consider Supplements
At our Retirement Village in Fendalton, lots of residents use supplements to boost immunity, add nutrients and keep energy levels up. If you are on medication, check in with your doctor about whether dietary supplements might work for you.
Vitamin D is popular as a mood stabiliser, and to keep the chills at bay, magnesium is a great option for aches and pains, to keep you regular and to aid in getting a restful sleep. B12 is thought to boost energy levels, and many seniors need an iron supplement.
You may find that supplements are a perfect fit for you, be sure to read the label and make sure you are not taking anything that will conflict with your medication.
Get in Touch
If you are looking for a place to retire where senior care and support come first, get in touch with Holly Lea Retirement Village in Fendalton. We are here to provide all the traditional comforts in an elegant and luxurious environment. Contact now!
Share this article via: