arrow_backBack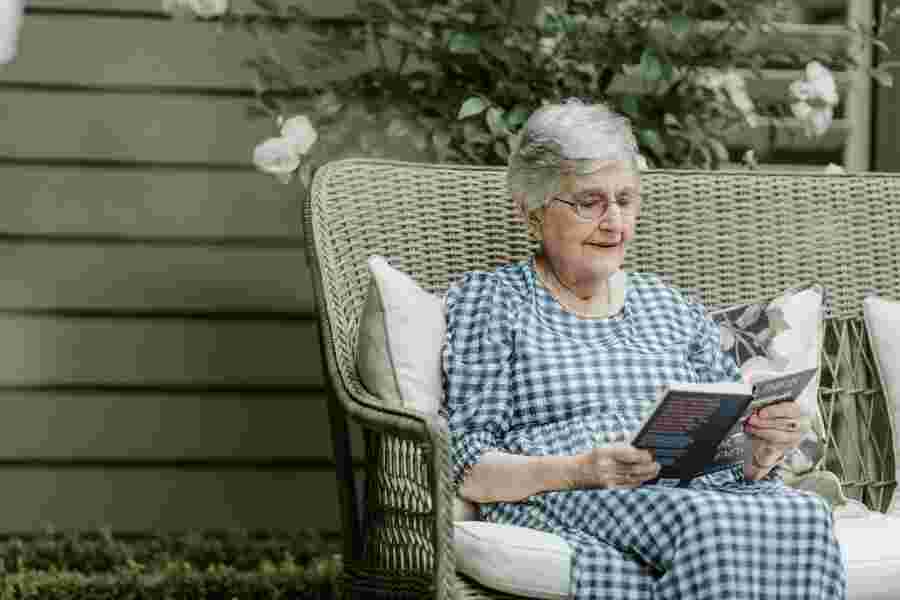 A Journey of Self-Discovery: Noelene Boag's Memoir "A Pilgrim's Journey"
Holly Lea Events
A launch was held at Holly Lea Village at the end of last year for resident Noelene Boag's self-published book, A Pilgrim's Journey. Over 100 people gathered including fellow residents, staff, family, media, and the Christchurch Mayoress. Also among the attendees was award-winning television journalist and author Jehan Casinader, whose own book was Noelene's inspiration.
Noelene was born in the 1930s and grew up on a farm in mid-Canterbury, facing many challenges in life. The book details her journey from early school days, living overseas and nursing, to finding her calling as a nun. She also experienced a range of health problems, including chronic fatigue, which led to a battle with depression.
After reading Jehan's book about his mental health challenges, This Is Not How It Ends: How rewriting your story can save your life, Noelene was compelled to document her own experience overcoming depression and the many challenges that she had faced in her life. Jehan's story helped Noelene find a different perspective and a new lease on life, in her golden years.
It was the motivation Noelene needed to put pen to paper and she hopes others may be inspired from her own journey. "I've had a real sense of resolution as I've concluded my story," she says. The book was published with the support of Generus Living Group and the McLean Institute.
Holly Lea General Manager, Juliane Brand says being a part of Noelene's journey and hosting her book launch was a wonderful experience for both residents and staff.
"This event was something that Noelene and all of us at Holly Lea will remember for a very long time. It was really special for her to meet Jehan – and celebrating the launch of your first book and your 90th birthday one week apart is certainly not something we will see very often!"
History of Holly Lea
Holly Lea was founded and funded by Allan McLean, one of the major runholders and wealthiest men in Canterbury, during the early years of settlement. Born on 24 May 1822, he was the son of a Scottish farmer-fisherman. In memory of his mother, a magnificent home was built, which upon his death could be used to accommodate women of education and refinement, who were in straitened circumstances from situations beyond their control. The idea of the McLean Institute was born. The Institute was incorporated by an Act of Parliament 'The McLean Institute Act 1909'. In 1955, Holly Lea was sold to the Government and Quamby was renamed Holly Lea. The Mclean Institute was developed into a retirement village in 2008. Shortly afterwards, Generus Living Group entered a partnership with Mclean Institute to assist in the management of the village.
Holly Lea has now been renovated and restored to its former glory. Noelene Boag is the last resident in the village under the care of the McLean Institute. Holly Lea Village is part of the Generus Living Collection. Generus Living Group is a privately owned New Zealand company. Over the last 10 years its team has built a strong reputation for build a strong reputation for building and managing outstanding retirement villages of impeccable quality in Auckland, Mt Maunganui and Christchurch.
To read more about Noelene's story click here.
Share this article via: